Welcome to Reception!
In Reception we have three classes where Mrs Williams (R1JW), Miss Kennedy (RAK) and Miss Jolley (RLJ) are Class Teachers.
Mrs Bates supports class R1JW, Mrs Edmunds supports class RAK and Mrs Ford & Mrs Smith support RLJ as Teaching Assistants.
We are also supported by specialist Teaching Assistants called Mrs Ollier, Miss Hassall and Miss Harris .
If you wish to contact the class teachers, please use the following email addresses:
jeni.williams@hungerfordacademy.org; abigail.kennedy@hungerfordacademy.org and laura.jolley@hungerfordacademy.org.
Reception classrooms share a teaching area in the infant building and share a playground with Pre School children, which is accessed through entrance J from the Foundation playground. Mrs William's reception classroom can be accessed from key stage one playground at entrances H and I.
What We Do
Each day the children take part in fun and exciting activities to promote their development and learning. We undertake daily Phonics, Literacy and Maths lessons. We also underpin our learning with Computing through using iPads and laptops in class. Every week one of the classes work with Mr Bean and Miss Ikoku for an Outdoor Education activity, and we promote physical activity through formal and informal P.E. lessons. Fizzy Tots coach Mr Askey leads a PE session for each reception class every Wednesday.
We plan our learning from the children's interests, which forms the basis of any topics studied.
Topics
Autumn Term 1: "All about Me!"
Autumn Term 2: "Celebrations"
Spring Term 1: ''All Around The World"
Spring Term 2:

Summer Term 1:

Summer Term 2:
Trips & Visits
Autumn Trip: Reaseheath

Spring trip:

Summer trip:
Homework
In Reception, we set homework projects linked to children's topics and learning. A project is set termly. Please find the homework projects set below:
Autumn - All About Me Booklet

Spring -

Summer -

Tapestry Learning Journeys
Every child in the Foundation Stage at Hungerford has an online learning journey. This learning journey can only be accessed by school staff and a child's own parents and is password protected. This can be accessed via an app on your android or iOS device. Alternatively - log in at https://tapestryjournal.com/.
Please see your class teacher if you are unsure of your log in details.
We want you to share in your child's learning journey at Hungerford Primary Academy and would like you to enjoy the Tapestry Journals. It is important that you can access your child's journal to be able to do this, we are happy to help if you are having any issues logging on.
We would also ask that any photographs / special moments from life at home are uploaded to Tapestry by parents where possible, as these can help to form a more holistic picture of each child.
Reading Morning
This takes place every Thursday 8.45-9:15 a.m. All are welcome, mums, dads, uncles, aunts, grandparents etc. Pop along whenever you can to share story books with your child for half an hour each Thursday.
Water Bottles, School Dinners and Snack
We encourage all children to have a water bottle in school every day so they can drink regularly. School is able to supply a water bottle, please ask one of the team about this.
It is very important that this is water only as juice is not permitted.
A snack of fresh fruit and a carton of milk is available every morning break for children up to the age of five. A hot school meal or a sandwich lunch bag (known in school as a Cat Bag) is available as part of the Universal Free School Meals programme, however sandwiches are no longer available on Fridays. Please provide a packed lunch for your child if s/he would prefer not to have a school dinner.
Equipment
Children need reading books in school every day. Reading books should be brought in school book bags and will be stored in classroom trays. Children also are required to have a P.E. kit in school, which consists of a white T-shirt, black shorts and school pumps. A pair of wellies should also be brought into school for Outdoor Education work, we will notify you when it is your child's turn.
Outdoor Education
Every Friday a group of children will head out for a morning of Outdoor Education with Mr Bean and Miss Ikoku where they discover and learn about the environment around them as well as practice social skills, confidence building and teamwork amongst nature. When it is your class's turn we will notify you on here and by text / newsletter.
Our Gardens
The children will take responsibility for looking after our gardens as they grow and we look forward to tasting them fresh from the ground when they are ready.
Newsletters
Week 4 + 5 Newsletter 13.10.17
Week 6 Reception newsletter 6 20.10.17
Week 9 + 10 Newsletter 20.12.17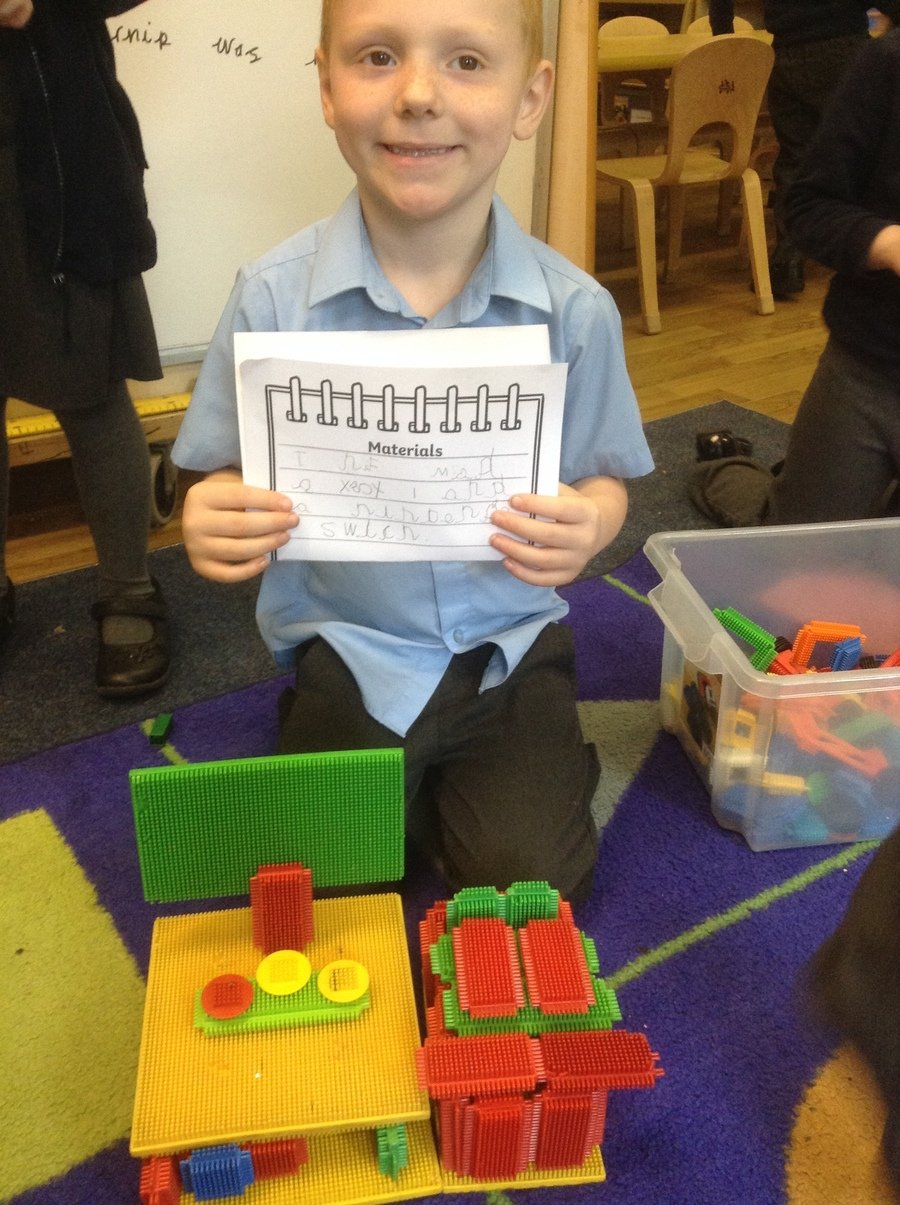 The children have been trying really hard to become a star builder this half term and have had their photograph displayed in the builders area if they designed and wrote about their structures! Here, Elliott has written 'I have made an Xbox and a Nintendo Switch.' Super!